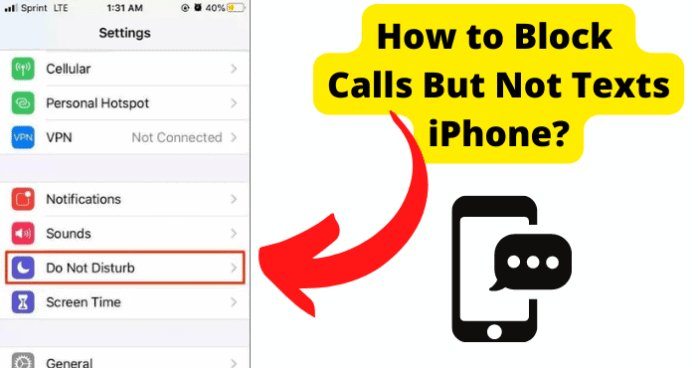 What if you wanted to block the calls but not the text messages received from everyone in your contacts?
Some people will consider this method if they are in an important meeting or they would rather text than talk. Let's observe some ways to perform this action.
Can You Block Calls But Not Texts on iPhone?
Yes, you can block calls without blocking your texts on your iPhone. For iOS consumers who use the block feature, when they block a call, it's typically for a specific reason. Either they are super busy, or they just want some time to themselves.
In this crazy world, these instances are understandable. But what if you wanted to block the calls but not the text messages received from everyone in your contacts?
Some people will consider this method if they are in an important meeting or they would rather text than talk. Let's observe some ways to perform this action.
How to Block Calls But Not Texts iPhone
As it was stated before diving into this information, there are various reasons why someone would want to block a phone call but not text messages.
So, along with there being various reasons for blocking a call but not the texts, there are various interesting steps that you can take to perform this action.
The steps that you are about to observe were methods that were designed specifically for iOS users. If you have an iPhone, you know that iOS devices are full of tricks and second-hand alternatives to utilize to make life simpler.
And that's exactly what these methods are. They are simple, quick, and very easy to use. So, without further hesitation, let's go ahead and dive into the first method!
1. Enable DND For their Specific Contact
Enabling Do Not Disturb on your device is an easy way to prevent calls from coming through without blocking the text messages of the recipient.
When DND turns on, a crescent moon appears in the status bar and on your Lock Screen.
With Focus in iOS 15, you can use Do Not Disturb to silence calls, alerts, and notifications you get while your device is locked. With the Focus feature, you also schedule Do Not Disturb and allow calls from certain people.
To enable DND on your iOS 15 device, you must:
1. Go to Settings and tap on Focus
2. Top on Do Not Disturb
3. Select your custom options for the notifications.
To Turn on DND from Control Center, you must:
1. Open Control Center on your iPhone, iPod Touch, or iPad.
2. Tap on Focus, then tap Do Not Disturb
To Turn on Do Not Disturb with iOS14 and earlier and iPad OS 14:
1. Go to Settings and select Do Not Disturb
2. Turn on Do Not Disturb manually or set a schedule
To turn on Do Not Disturb from the Control Center of iOS14:
1. Open Control Center on your device
2. Tap the crescent moon icon or press and hold the crescent moon icon to turn on for a specific time frame.
If you do not want to be interrupted at a particular time frame, you can set a scheduled time and adjust other Do Not Disturb features to assist you with concentrating. With iOS 15, you can:
1. Go to Settings > Focus.
2. Tap Do Not Disturb.
3. Select settings for Allowed Notifications, Focus Status, Smart Activation, and more.
With iOS 14 or earlier:
1. Go to Settings > Do Not Disturb.
2. Turn on Scheduled and set a schedule.
3. Choose when you want to receive alerts, calls, and notifications.
4. Choose to silence calls and notifications always or only when the device is locked.
5. Allow calls from every one, no one, your favorites, or specific contact groups stored on your device or iCloud.
If someone calls you twice within three minutes, the second call isn't silenced.
2. Set Up Auto Reject Mode
The next method is a set of auto-reject on your device. Auto reject is a feature that allows you to forward your calls automatically to voicemail without answering.
Many people would definitely consider this alternative not only because it's easy to use but also because it will allow the other person to leave you a voice message if need be.
This would be something that is beneficial for the caller if they don't feel like typing a full message and texting the message to you. They will have a quick redirection to your voicemail to leave you the message instead. So, this is more so of a win-win situation.
To use auto-reject on your device, you must do the following:
1. First, you need to create default replies in your iPhone settings.
2. Navigate to settings.
3. Tap on the phone option.
4. Next, tap on respond with text.
5. Finally, you will have the option to select any default message, and you will be able to replace it with your own verbiage.
Using this method will forward the call to your voicemail and allow you to send an automated text response simultaneously. It doesn't get any simpler than that!
3. Put Your Phone on Airplane Mode (you'd still receive texts when you turn off airplane mode, but calls won't come through)
Airplane mode disables all of the wireless functions of your device or laptop PC, including Cellular connection: You can't make phone calls, send texts, or use mobile data to be accessible to the internet.
Airplane mode can be an advantageous mechanism. There are many instances where Airplane mode is beneficial. Some of the scenarios are as follows.
When Traveling to Other Countries outside of your Destination. Roaming charges can be insane when you travel internationally. Also, with your iPhone on Airplane mode, this is a way for you to remain respectful to other people that are flying with you.
When You Want to Save Your Phone's Battery Life, switching on the airplane mode is an excellent way to prolong your phone battery life.
Saving battery life is crucial, especially if you are a person who uses your iPhone constantly. For consumers who are always moving from one destination to the next and don't have a charger accessible, using the Airplane mode can be resourceful.
Lastly, when kids are using their smartphones is another reason to use Airplane mode. And since this feature can stop calls, if a child is using your device, they won't accidentally end the call if they are watching their favorite episode of Cocomelon on YouTube.
If you are looking to stop calls without blocking the text messages from your contacts, placing your iPhone on Airplane mode will save you tons of headache and battery time and prevent you from having a long list of accidentally missed calls.
Besides, I don't think you want to be in a crowded, quiet area, such as a meeting, the spa, or flying first class on an airline, and your Beyoncé ringtone is going off every 5 minutes. You may get a lot of side eyes for that.
To access your Airplane mode on your iPhone:
1. From the Home screen on your Apple® iPhone®, tap. Settings. If an app isn't available on your Home screen, swipe left to access the App Library.
2. Tap the. Airplane Mode. Switch to turn on or off. Airplane Mode can also be turned on/off from the Control Center.
Setting your device to airplane mode will definitely do the trick. You don't have to be concerned about answering the call, nor do you have to worry if you can't respond to the call with a text.
You're able to kill two birds with one stone. Once the call comes in, and the call is automatically rejected due to airplane mode being enabled, you will have the opportunity to go ahead and reply back to the missed call with a text message.
Therefore, there is some flow of communication with the caller that was rejected.
4. Set A Silent Ringtone
A silent ringtone is an audio file that makes no sound, so you can select it, and when that person calls, it does not ring. Once you import the silent ringtone file to the iPhone, it'll be selectable like other ringtones and text tones.
To use a silent ringtone on your iPhone, you can do the following steps:
1. Download a silent ringtone to your computer. Be sure to do this on the computer you use to sync your iPhone with iTunes.
2. Open iTunes on your computer. You'll find it in the Dock on macOS and in the All Apps area of the Start menu on Windows.
3. Next, connect your iPhone to the computer. Use the cable that came with your iPhone or one that's compatible.
4. Click the iPhone button. It's near the top-left corner of iTunes.
5. Click the "Tones" button located in the left panel.
6. Open the folder to which you downloaded the silent ringtone.
7. Drag and drop the silent ringtone file to the Tones screen in iTunes. This adds the ringtone to your library and copies it to your iPhone. Once the ringtone is copied over, you can disconnect the iPhone from your computer.
8. Open your iPhone Settings.
9. Tap on the Sounds tab.
10. Scroll down and tap on the Ringtone tab located under the Sounds and Vibration Patterns header.
11. Select your silent ringtone. To do so, tap its name under the ″Ringtones″ header. Your iPhone is now set to use this silent ringtone as its default sound. This means you won't hear any ringtone when someone calls you.
12. Lastly, assign the silent ringtone to a specific person. If you don't want to use a silent ringtone for all incoming calls, you can assign it to specific contacts.
To assign the silent ringtone, you must:
Open the Contacts app.
2. Tap and select a contact from your contacts list.
3. Tap Edit at the top of the screen.
4. Tap Edit on the ″Ringtone Sound″ option.
5. Scroll down to the Ringtones section and tap the silent ringtone.
6. Tap on the Done option located at the top-right corner of the screen.
Having a silent ringtone is a great way for you to see who is calling without accepting the call. And if the call is not accepted and the caller decides to send a text message, you will be able to view that text message immediately.
And along with them sending you a text message, you're able to respond to the text message as well.
5. Set Up Call Forwarding
When you set up the call forwarding feature, your iPhone won't go off, and all of its calls will go to another phone immediately. If you set up call forwarding for a short time span, it's easy to turn off, so your iPhone gets calls again. You can set up call forwarding by:
1. Go to Settings and tap on the Phone option.
2. You will have the option for Call Forwarding and Call Waiting. The Call Forwarding option will have a phone icon with a right-facing arrow in the status bar when call forwarding is on.
You must be in the cellular network range when you set the iPhone to forward calls, or calls won't be forwarded. Call Waiting operates if you're on a call and call waiting is turned off; incoming calls go directly to voicemail.
Once the call comes in and is rejected and forwarded to an alternate device, you will have the option to respond back to the missed call with a text message from your iPhone.
Also, if your calls are forwarded to another phone, and you want to respond to the missed phone call with a text message using the alternate device, you can have the alternate device with you as well.
However, that would defeat the primary purpose of having the call forwarded. Typically, if you have a call forwarding from your iPhone, the alternate device is in a different location than where you are.
So, if you want to prevent the call from coming in but still have access to text the individual, you may want to keep the alternate device in a different location.
Moreover, setting up call forwarding is very beneficial if you are someone who is considered to be a professional or someone that just enjoys their quiet time.
Silencing your device is a quick and easy way for you to set it and forget it for the time being.
To silence your device:
1. On the left side of your iPhone, find the switch above the volume buttons.
2. Push this switch so that the orange indicator is shown. This puts your iPhone in silent mode, meaning texts and voice calls will not ring out loud.
Although you may still receive calls, you will still have access to send text messages to the other person and for the other person to send messages to you.
Putting your phone on silent will allow you to come to the call when you are available. And if you don't want to give the person a call back at a later time, there is the option to go ahead and send them a text message in reply to the phone call.
In other words, if the caller notices that you have not picked up the phone, they can send you a text message, and you will be able to respond back.
Imagine being in a very important meeting or at a movie theater catching a new film on a date, and your favorite Lizzo song that is set as your ringtone starts playing in the middle of the pitch silence.
To avoid that awkward situation, don't regret not putting your device in silence before you enter the setting.
6. Make Your iPhone Seem Like It's Out of Coverage By Wrapping It in Aluminum
This method seems like a 21st-century "old school" remedy for blocking signals to your device. Wrapping your cell phone in aluminum creates a barrier around your device. This barrier is known as a Faraday Cage.
In the 1800s, a scientist named Michael Faraday discovered that an electric charge exists on the outside part of a charged conductor, and the electric charge has little effect on whatever is enclosed within and by the conductor.
This allows the electric charges on the exterior to cause internal electric fields to cancel. Because cell phone signals are electronic, the aluminum foil prevents the signal from reaching the cell phone.
For some users, the method doesn't work. However, the way to test whether it works is to wrap your device in aluminum foil by ensuring there are no gaps or spaces around the device when wrapping the foil.
There are a lot of weird experimental methods that are available for technology these days. Some alternative scientific strategies out there require a lot of time and energy for them to work properly.
However, this method will only require you to make a quick run to your local grocery store or dollar store.
So, if you are looking to block your calls without blocking the text messages, you may want to consider this experimental trick to see if that will do you justice.
7. Make Your iPhone Seem Like It's Out of Coverage
There are various explanations why some people do not want to receive calls from others, whether it be friends or family. Sometimes, you'll end up picking up calls that you really don't want to. Disguising your iPhone's coverage can be a nifty trick.
To manually change your network carrier settings on your iPhone, take the following steps:
1. Go to Settings > Mobile Data > Mobile Network.
2. By default, Automatic is selected. Turn off the Automatic option.
3. You will see a list of available carriers below the screen. Select one carrier from the list and test the network speed.
When you are attempting this method, if you encounter any issues with your device, it would be best to reach out to your phone carrier for further inquiry and to see what can be done to resolve any issues that may arise.
Not saying issues will happen when you attempt this. It's more so for you to have a plan B on standby in case you have a little trouble choosing a different network.
8. Reject with Reminder
Consumers of smartphone devices, particularly users of the iPhone, never thought that using your reminders could be a way to stop calls before taking the initiative to use the block feature.
Using your reminder settings as a way to cancel a phone call is different, but it can be resourceful if none of the other options are working or if you want to try a different approach.
To decline a call and send it straight to voicemail, you must:
1. Press the side button or Sleep/Wake button (depending on your model) twice quickly.
2. Tap.
3. Swipe up on the call banner.
Taking this step is a way for you to leave a call "on read" and get to the call when you are able to take the call.
Most people would consider their reminder settings annoying. However, now you know there is an additional use for this setting.
So, if you want to block your calls but still receive messages from your contacts, you can reject them with your reminder settings. When you reject them with a reminder, you will still be able to receive text messages from your contacts.
Meaning, that you will still have the opportunity to reply to the missed call with a text message if you decide to do so at that moment or at a later time.
Conclusion
Receiving random calls at awkward times can really throw off your day. Although the timing may be off, some people still care enough to keep the lines of communication open without answering the phone call.
If you consider yourself to be a person who has the heart to text back after rejecting a call, then the information in this article is for you! To reiterate some of the helpful methods to block calls but not the text.
You have the option to put your phone in DND mode, silence your device, enable call forwarding, utilize airplane mode on your device, use a silent ringtone, and disable the range on your device by using aluminum foil reject with a reminder, and set up auto-reject mode.
The methods are simple and quick to perform. Also, these alternatives will save you tons of time from having to explain why you had rejected the call.
I don't believe anyone wants to take a call during a business meeting in a room full of employees or answer a call if they are at the spa treating themselves to a day out.
So, to be polite, you would rather keep the lines of communication open with a text message, so the other person doesn't feel rejected.