Apple TV is a black plastic box with an HDMI connection that connects to your television. Then it connects to your home's wireless network, allowing you to enjoy the wonders of Internet video on your television. It comes with a straightforward three-button remote control. In its early stages, Apple classified the project as a "hobby," but now it has become a sought-after gadget that many people have in their homes. Unfortunately, it has been discovered that Apple TV audio issues are not an uncommon occurrence. Its troubleshooting procedures are very straightforward and take minimal time to perform.
Here are some of the reasons why apple tv may have no sound:
Why Does Apple TV Have No Sound?
1. There's A Glitch
When there is an Apple tv glitch, you may experience no sound. Luckily a glitch can get easily fixed with an update, and you can continue watching apple tv with sound.
2. Sound System Not Working on Hardware You're Watching Apple TV On
If you are experiencing this problem and utilizing a sound system, make sure that you double-check all of the connections on your sound system. Using an incorrect mapping of the input port on your audio system to the output port will almost certainly result in sound issues. It is recommended that you consult the instructions that came with your sound system if you are unsure how to proceed. You may look for the manual on Google and download a digital copy if you no longer have access to the physical edition.
3. HDMI Cable Not Tight
Sometimes a minor connectivity fault can lead to audio difficulties. We propose that you examine and recheck all HDMI cables and connections to verify if your connections on the home kit soundbar or tv audio system are tight.
4. There's Something Wrong With Your HDMI Port
For you to connect your Apple TV to your TV, your HDMI ports need to be functioning correctly. The HDMI allows for all devices to connect for both audio and video transmission. The HDMI Handshake describes this capacity to recognize different media and devices. It signifies that one or more connected devices do not recognize the HDCP encryption inherent in the HDMI stream if the handshake does not function properly. If the sound isn't working on your Apple TV, you may need to check your HDMI port or your cables.
5. Improper Audio Configuration
Your TV speakers aren't the best when it comes to producing sound, but most TV has audio options that are used to improve the sound. When you're using your Apple TV and connecting it to a TV, you need to make sure that the TV is configured properly so that the sound can work at all times.
6. Glitch with the Installed App
Apps allow you to customize your hardware so that there's a personal feel that suits whatever you need an app for and your Apple TV allows you to do that. Unfortunately, sometimes apps glitch out and this can have a negative effect on your sound. If you have apps installed on your Apple TV, these apps can glitch which can cause your audio not to work. To get your sound to work again, you'll need to update the apps to get rid of the glitch or uninstall them.
7. The Show Itself's Audio Is Delayed
If the show you're watching specifically is corrupted or for some reason, it may be meant to have no sound, it can appear as if there's something wrong with your Apple TV and it's getting no sound. In cases like this, there's nothing you can do about the audio. When you're streaming this specific show, the sound may not work or appear to work when there's just something wrong with the show. So the only solution would be to change shows.
8. Manual Adjustment Needed to Get Sound Right
If there's something wrong with the cable connection on your Apple TV, this will affect the sound output. To rule this out as a possibility, you'll need to unplug all of the cards first, which might take some time. Once done, you'll need to connect them as tightly as possible.
9. Software Out Of Date
If your Apple TV is out of date, then you may experience some audio issues which is why you think your Apple TV has no sound. Software updates are there to fix any problems with your Apple TV so you'll need to update your Apple TV if there's no sound.
How to Fix Apple TV No Sound
Start soft resetting/power cycling all of your devices if you are experiencing audio problems with your Apple TV. A soft reset implies that none of your previously stored settings will get lost due to the operation. Turn everything off, and then disconnect the power supply from the back of your Apple TV device to perform a soft reset on your Apple TV device. Before plugging it back in, wait at least 60 seconds.
To fix an apple tv with no sound, you can also:
1. Reboot Hardware Connected To Apple TV
Audio difficulties may arise at times due to external sound systems getting connected to your Apple TV. Maybe the problem isn't with your Apple TV but with another device. To avoid this, switch off and remove any external audio hardware systems linked to your Apple TV, then wait 30 seconds to one minute before turning them back on and reconnecting them to your Apple TV.
2. Soft Reset Your Apple TV Device
If sound still isn't coming out of your Apple TV, then you should start with a soft reset. A soft reset means that you can reset your Apple TV without losing any dating or settings during the process.
To soft reset your Apple TV device, turn everything off from the socket then unplug the power from the back of your Apple TV device. Wait at least 60 seconds before you plug everything back in again.
3. Soft Reset Your TV
Rather than there being a problem with the Apple TV hardware that's causing sound not to come out, there could actually be a problem with your TV. To soft reset your TV, you'll need to unplug it and wait for 60 seconds. Once the 60 seconds is up, you'll need to press and hold the power button on your TV for 10 seconds. Make sure this is the power button on your TV and not your remote. Doing this will allow any power remaining in the TV's capacitors to drain fully, resetting it.
Disconnecting the television from the power source does not cause the tv to get reset; instead, it just turns it off as if it had been turned off and back on using the remote. You may generally execute a factory reset by selecting it from the setup menu or pressing a button on the television's remote control.
4. Soft Reset Any Hardware Connected to Your TV
5. Reboot Apple TV
Rebooting your system is an excellent technique to resolve specific minor technical difficulties that may arise from time to time in your system, mainly if the video you're air playing is devoid of sound. When you restart your Apple TV, the RAM is cleared out, which keeps your RAM from being overly clogged. Performing a reboot also ensures that any applications currently running on your Apple TV system come to an abrupt end. It provides the option for your system to restart from the very beginning. A simple reboot may be sufficient to address the issue at hand.
To reset your Apple TV, press and hold the Menu button and the TV button at the same time for about six seconds on your Apple TV remote. Ignore the sleep dialog box that appears as a result of doing so. After the power gets turned off, you'll see that the LED in the Apple TV device begins to blink. It is normal. When this happens, it means that the system is restarting.
6. Check and Tighten All the HDMI Cable Connections
HDMI should make it simple to connect all of your devices using a single HDMI connection for both audio and video transmission. Linked devices must be "licensed" to interact with one another through a standard known as HDCP (High Definition Communications Protocol). The "HDMI handshake" is used to describe this capacity to recognize and communicate with various media and devices. It signifies that one or more connected devices do not recognize the HDCP encryption inherent in the HDMI stream if the handshake does not function properly.
Make sure that the cable is securely fastened at both ends. In comparison to component or composite video connections, HDMI connections are less secure and can occasionally fall out. If this occurs frequently, you may consider purchasing locks for your HDMI cables or self-locking cables. Buying locks for your HDMI cable connections will ensure that your sound is never affected by a cable slipping out and not being tight.
7. Change Your TV Audio Output to PCM
Changing your Apple TV's audio format within your Apple TV settings might not be enough, you'll need to change your TV's audio settings too. For this, you'll need to grab your original TV remote. Keeping in might that every TV is different, your aim here will be to change your TV's audio to PCM. PCM is short for Pulse-Code Modulation and it's a technical term for Stereo audio. So essentially you want to change your TV's audio to stereo also known as PCM.
Go to Menu and select Settings on your TV remote
Look for Sound Settings and select Audio Out
Look for Optical and Digital Sound Out (PCM)
These steps will be similar to the one for your TV although there's a chance it could be vastly different, so don't be scared to scan through your entire TV. All you're looking for is a way to change the audio on your TV to PCM (Stereo). Keep looking for it in settings until you actually find it, then make the change.
8. Switch HDMI Ports
If there are problems with sound coming from your Apple TV, then the HDMI cables might be to blame. For the HDMI cables to be ruled out as a possibility, you need to make sure that they're connected properly. Make sure to tighten the connection and sure that they're firmly secure. If you find out that your sound is still not working, check the HDMI cables for wear and tear. Make sure to check for fraying along the length of each cable. If you notice that something isn't quite right with the cables, the only thing you can do is replace them with a new one specifically made for Apple TV's (view on Amazon). If the cables are fine, you may be using the wrong HDMI port and need to switch.
If there are separate ports for the HDMI cables, and your soundbar system or home theater system is connected via a conventional HDMI port rather than an ARC or eARC connection, then these devices will have sound problems. Check to see that the soundbar and home theater system you are experiencing problems with is connected to the HDMI port with the ARC label before proceeding.
9. Turn Off Surround Sound on Apple TV
Whenever you connect your Apple TV to your TV set, it'll automatically detect the best quality sound that's available. You can manually select a different setting that might fix the sound problems you're having.
Open the Settings app.

Select Audio and Video.

Select Surround Sound.
Switch from Dolby Digital to Stereo
10. Set the Audio Mode to Auto
Another thing you can do to fix the no sound from Apple TV issue is to set the audio mode to auto. The correct speakers may have not been selected which is resulting in your TV making no sound and the Apple TV device is at fault.
To change your audio mode to Auto:
1. Go to Settings
2. Click on the 'Audio and Video'
3. Check that the right speakers are selected for audio output.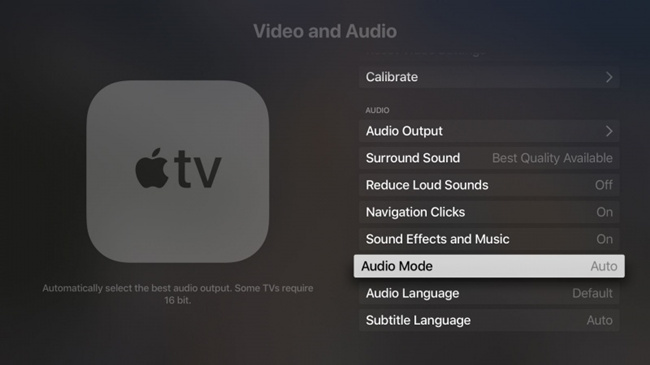 4. Set the Audio Mode to 'Auto'.
11. Disable Dolby Digital Out Settings
If you're still experiencing no sound on your Apple TV, this could be the result of your TV not picking up the right signal. Turning off the Dolby Digital out setting will help add more strength to your TV's signal.
To Dolby Digital Out Setting:
1. Go to Settings using your Apple TV remote
2. Select Audio & Video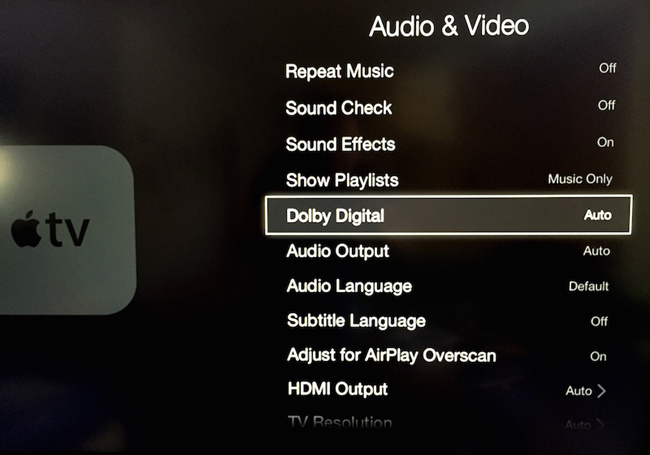 3. Scroll to 'Dolby Digital Out Setting'
4. Change it from 'On' to 'Off'
12. Change Your Audio Settings
If your audio settings aren't correctly set, then your Apple TV will have no sound. You need to make sure that the audio settings are set correctly and this will enable the surround sound.
To change your audio settings:
1. Go to your Apple TV's home screen and select Settings
2. Scroll to 'Audio and Video' and select it
3. Look for 'Audio Format'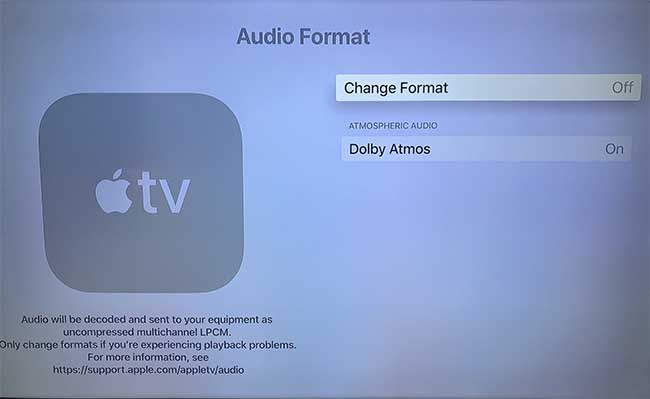 4. Select 'Change Format'
5. Select 'Use Best Available'. This will enable the surround sound and will bring back the sound to your Apple TV.
13. Check for Updates
Following new software upgrades, the Apple TV operating system software has been enhanced and optimized. Your system becomes better and better with each new version released, which is why it is a good idea to upgrade your system as soon as a new update is released. Frequently, a recent update will resolve the majority of the issues that the user is experiencing. Check for updates on your Apple TV by following the procedures outlined below.
To update the Apple TV:
To begin, hit the Home button on the remote control of your Apple television.
Please navigate to the Settings option in the menu window and choose it.
Now go to Software Update and pick Update Software from the drop-down menu.
If any new updates are available, a dialog box will show on your screen. Select Download and Install from the menu bar to begin the update process.
14. Update Your TV
1. Turn on the tv. If it's a smart TV, there's a chance that you'll be requested to check for and apply updates as soon as you turn on your tv, that's if there are updates. Follow the on-screen directions to finish your update. The steps below will guide you through the process of locating and installing any necessary firmware upgrades if they are not requested to do so immediately.
2. Connect to the Internet using Wi-Fi. If you haven't received your TV's automatic updates yet, it's likely, your TV isn't connected to the internet. If you want to connect to your home network, press the Menu button on your TV to bring up the main menu, and then scroll down to the Network option.
3. Select your Wi-Fi network from the Network Settings menu. You'll need to enter your network password.
4. Once you've signed into your home network, check the connection and make sure that it's strong so that you don't have any connectivity issue that could prevent the update to take place. Once you've fixed any network issues and they've been resolved, you have been properly connected tot the internet. From here, go back to the main menu to begin the upgrade process by selecting "Update Now."
5. Select the Settings option from the drop-down menu. Go to the System menu by selecting it from the main menu > System Information and Check for System Updates whether two options are relevant to your situation under the System menu.
6. Check that the version number of the update is correct. The System Information menu may be used to determine the version of the operating system your TV is now using if you are not sure which one you are currently using. Below the model name, you'll find the version which will let you know the firmware version that the TV will be updated to.
7. Check for any new updates that may be available. You can do this by clicking Check for Updates when you're ready to install the most recent software version on your TV.
8. Begin the process of installing the update. The system will begin downloading the most recent version of the program as soon as you confirm your decision. The version number for the installed program and update downloading will get shown on the screen via an on-screen message.
9. Once the update has been downloaded, the TV will get forced to restart to continue installing it. In addition, you will see a splash screen that displays the installation status.
10. Once that process is completed, the television will automatically resume. An additional notification informs you the update has been successfully installed and lists some of the new functions that have been activated on your tv.
15. Ensure You're Using The Correct Sound System for Your Apple TV System
Ensure that your Apple TV identifies the right speaker system attached to it as its audio output by checking the following: This is a step that is frequently missed by the end-user, which is why it is so critical to the overall experience.
The following are the stages involved in this procedure:
To begin, press the menu button on the Apple TV remote control.
When a menu opens on your screen, scroll down and pick Settings from the drop-down menu that appears.
The Settings menu appears on the screen. Select the audio and video option after scrolling down to the bottom of the page.
Select the audio output from the new menu that appears on the screen, and then assign the proper sound system to the selected audio output source.
16. Change Apple TV Volume
If your apple tv has no sound, try to change the volume using the remote. Unless you had a CEC-enabled receiver, the only method to manage the volume without a remote would be to use the Siri remote or link a universal remote with the receiver itself. Only then would you be able to utilize the app in conjunction with the actual volume buttons on the phone.
17. Contact Apple Support
If you have tried all the steps and there's still no sound from Apple TV, then it looks like there's a deeper issue that can't be resolved with troubleshooting steps. In this case, you'll need to contact Apple support to get this fixed. You can speak to their live chat via the Apple Support website.
18. Contact Your TVs Manufacturer
If you have tried all the steps and there's still no sound from Apple TV, then there might be a deeper issue with your TV itself rather than the Apple TV hardware. In this case, you'll need to contact your TVs manufacturer to get this fixed.
The Takeaway
If your Apple TV's volume is not working properly, check that you have selected the right speaker system and that the audio mode is set to Auto to resolve the issue. If the audio mode is pre-programmed, it can get set to something similar to the following. Change the format of the audio from Mono to Stereo by going to Menu > Settings > Audio & Video > Audio format > Change format > New format. Remember, most Apple devices come with an unlimited number of gratis support issues for the first 90 days after the purchase or lease of the product. If none of the troubleshooting options listed above are successful, contact Apple TV support directly and chat with one of their professionals about your problem. If you've had your Apple TV for a longer time, you may be required to buy Apple Care to receive the assistance you require.